Home > Cultural Tourism > Cultural Heritage > Rock-carved Maitreya Buddha in Bongcheon-dong
Rock-carved Maitreya Buddha in Bongcheon-dong
The seated Maitreya Buddha of the Joseon Dynasty is carved lightly on the rock surface of a giant cliff facing the west, being situated on the north side of Gwanaksan.The overall style of the Buddha statute shows excellent techniques of the 17th century. It serves as an important material in establishingthe chronology of sculpture during the Joseon Dynasty. This rock-carved Buddha is highly valued as it represents Buddha statues of the 17th century during the Joseon Dynasty
Visitor Guide
Tel : 02-879-5606 (Culture & Sports Division)
Address : San 4-9, Inheon-dong, Gwanak-gu, Seoul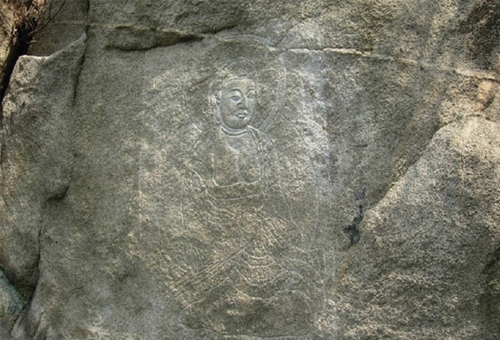 Tip

How to easily find Bongcheon-dong Maaemireukbul !

Referring to the map, go up Gwanaksan Mtn. using the climbing path in Nakseongdea lpgu(Entrance). Namhyeon-dong.

Go up to Sangbong Yaksuteo referring to Gwanaksan Mtn. Yeonjudae

When going through the path next to the horizontal bar inside Sangbong Yaksu Park. Maaemireukbul, a signboard appears.

Here you are at Maaemireukbul!